Quanta Mind is expanding and we are looking for creative people to work with us. We are curious, driven, compassionate, friendly, independent, collaborative, communicative, supportive, ethical and self-motivated individuals. In our organization you will find self-confident team members who work independently and embrace new ideas. We always look at the bigger picture.
If you feel you can add value to our company by upholding our work values and can fit into our company culture, then join us, and we will make sure to be partners in your career growth.
To be added to our resource database, please send your CV at careers@quantamind.net
Want to Work with Us?
Quanta Mind is Hiring
Working at Quanta Mind is much more than just a job. You will be working with a team of professionals with experience working on a wide variety of projects across a range of industries. You will be a part of an exciting team where committed, dedicated, inspiring and driven individuals have come together. Each individual brings something special to create a friendly and diverse atmosphere in the team.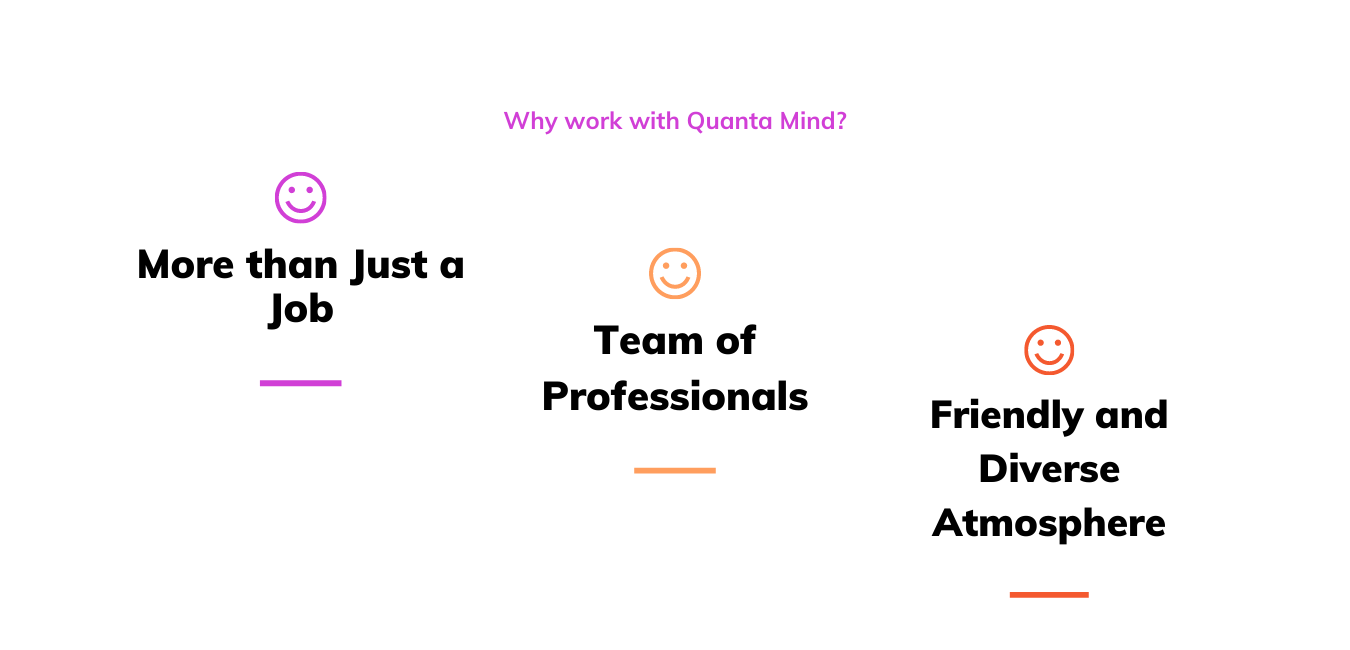 Our Expectations
We expect our team members to:
Display a positive and respectful attitude.
Work with honesty and integrity
Be accountable for their work.
Have ethical and respectful conduct.
Show dedication towards their personal and company's goals.
Work with professionalism
Be willing to help each other and build each other up as a team instead of displaying an "it's not my job" attitude.
Ask for help when needed.
Work safely together.
Be open to constructive feedback without being defensive or negative.
Be self-motivated and reliable.
Share ideas for improvement.
Be cheerful, positive and encouraging to other team members.
What You Can Expect from Us
Proper training, support and leadership
Safe and healthy working environments with flexibility
Full disclosure and explanation of the job responsibilities, company policies and procedures
Regular feedback on performance from supervisors or managers
Access to the resources employees need to perform their work tasks efficiently and properly
Fair and consistent communication and application of policies (e.g., performance, discipline, conduct) across the team
Credit and acknowledgment achievements
Ready to work with us?
Check our Job Openings.
I have been working as a Senior PHP developer for more than 6 years. In my experience of working at Quanta Mind, I have found that the management is very supportive and when they say "they care about their people" they really mean it. I enjoy the work as there is flexibility and professionalism amongst the team members.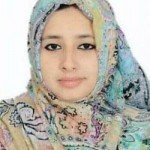 I love and enjoy my job because it lets me work according to my interest. I feel valued appreciated. The thing that I like most about Quanta Mind is the variety of work, flexible work hours, relaxed and productive atmosphere and supportive company that realizes that people are the most important assets.
I have been working as a mobile application developer in the software industry for about more than nine years. In my career I have been aligned on different projects serving wide range of users either onsite or offshore. Working in Quanta Mind is just like working in a fast growing and emerging company but with positivity in every aspect. What I appreciate about the company is that we have our daily goals defined for which we work proactively and efficiently that makes it easy for us to achieve milestones together with a highly qualified team and management.
I am a Software Quality Assurance Engineer at Quanta Mind. I am passionate about my work and the creative freedom that I have experienced while working here helps me to grow personally and professionally. The management gives us the space to be independent decision makers and to continuously learn and evolve.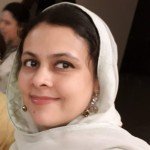 Some wise man just wondered, what's the need of all this information? Do we really need to know the 0.000001 percent of new symptoms of Corona? Yes, for those in the distant future this distraught rant comes from the time when the second wave was about to hit Pakistan in unison with the first one akin to a tsunami. These are crazy times I believe that in a not so far away future there will be a limit to the amount of "information" available out there. What do we do really? One of the positives that have come a little in the spotlight over this span of time is the concept of "healing" "preservation". People want to be a bit more spiritual and this is where Quanta Mind comes in. It is the lifeboat in this storm that is quite simply leading us more paranoid than ever. Focus on mind and the soul, my experience was one of a kind with Quanta Mind and I feel that we are all part of a huge amazing family.