I am truly honored to be one of the speakers at the Healathon event this year hosted by fellow ThetaHealers Sharon Wacks and Marie Miller. As the global pandemic continues to bring challenges and complexity, it has also sparked a shared sense of "we're all in this together" — supporting people around the world to help others they may never have reached out to in other circumstances. When we connect and engage in conversations that bring change, then we can truly understand each other in a better way. These conversations are loaded with benefits and help us to maintain our own wellbeing and move forward with joy, even in the midst of difficult experiences.
During my 20-minutes session as a speaker, I will talk about Clearing Trauma for Financial Abundance. The focus will be on giving you practical tips and action steps to change your relationship to financial abundance.
Our financial abundance mindset can be influenced by several factors. Messages from the media, the way our parents dealt with money or traumatic events in our life can influence the way we think about abundance. For example, growing up if we see our parents fight about money, we may form the subconscious belief that money is the root of all evil and it ruins the love/peace in life. Therefore, we may subconsciously 'reject' money by making poor financial decisions. Experiencing money trauma as a child can manifest itself in many different ways throughout our lifetime. Having said that, money trauma like other emotional and physical traumas can be healed. It is a long process but the end result is worth the effort.
This talk will be beneficial for you if you:
Feel guilt over your personal finances, spending habits.
Are Uncomfortable or unable express your financial needs and frustrations with your friends and family.
Believe that "money is the root of all evil".
Do not believe that you have the right to financial abundance.
There is a feeling that no matter what you do, it is never going to be enough.
The Structure of Event
The Healathon event is designed in a way that the participants will have 12 hours of unlimited access to 20+ Thetahealing® experts around the globe. The online event will begin at 11:00 AM EST on 19th November 2021 and you will be able to secure personal one-on-one private readings with the healer of your choice from over 40+ certified international healing professionals.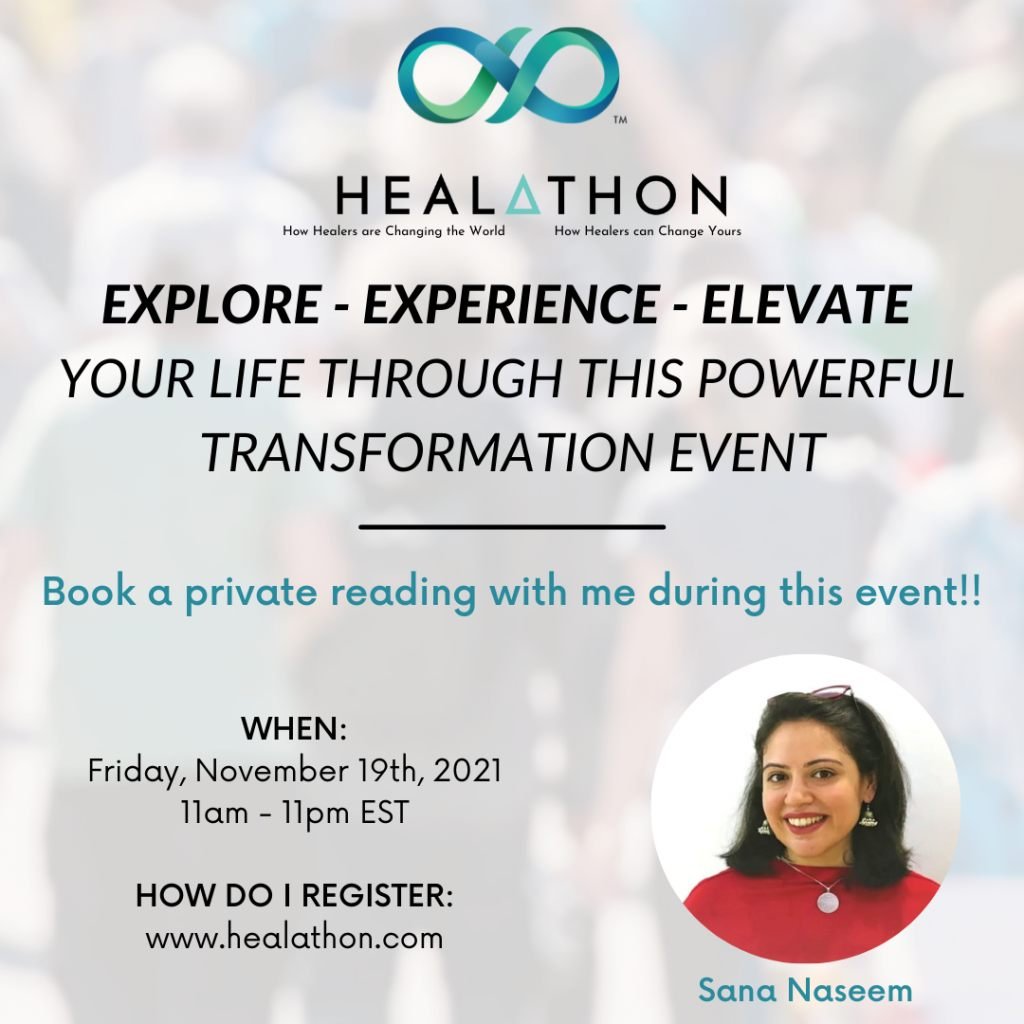 You can pre-book a private session (25 minutes) with me during the event from 11:00 AM- 3:00 PM EST. The process is simple- click on the link here, purchase a general ticket and add a private reading with me in the time slots that are available on the event page.
If you feel you are not ready for a reading session at this point in life, then join to listen to the amazing speakers. I am a huge advocate of continuous education; it doesn't matter whether you are new to ThetaHealing, thinking about taking this path or you have extensive experience. One should always learn and grow. In this fast-paced world, there are new trends, technologies and practices. It is our responsibility to keep up to date, always offer the best service to our clients and for our personal transformation. Such events are the best place to learn about the transformational journey of people who are on the same path.
I hope you will take the opportunity to learn from ThetaHealers around the globe— who will share their experiences in this online event.
Are you ready to live a happier and more peaceful life? Get your ticket today and start living and working better!